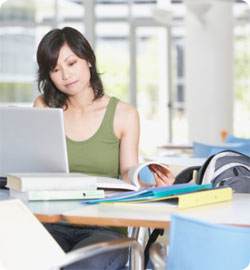 What are the features of the practice tests?
Convenient, online access
An interactive test simulation featuring sample test questions and explanations of correct responses
Comprehensive, immediate feedback on your performance
A realistic online experience similar to an actual computer-based testing environment
View a sample practice test

.
Purchasing and accessing your practice test
You may purchase a practice test on its own, or during registration.
Visit the "Prepare" page on this website, and select "Purchase Now" next to "Practice Tests."
Choose the test from the dropdown menu.
Click "Buy Now" next to the practice test you'd like to purchase.*
You will be prompted to create an account on this website, which you will also use to register for the test and access your test results.
After purchasing, you can log in to your account on this website at your convenience and take your practice test.
*Note that the WEST–B practice tests are available free of charge. For this step, click "Access Now" next to the WEST–B practice test you'd like to order.
Review minimum software and browser specifications and answers to FAQs

.
Taking the practice test
You will have 120 days to access your practice test, beginning on the date of activation.
Each practice test includes field-specific directions similar to those that will be presented in the actual test. Practice test questions may include graphics, audio materials, and writing assignments, as appropriate. There is currently only one version of each practice test.
While you are testing, you may pause the test and return to it later if you wish; you do not have to finish the test in a single session.
Your practice test can be submitted for scoring only once, but it will be available for your review until the end of your subscription period (120 days). After you submit your practice test for scoring, you will receive immediate results showing your competency- or objective-level performance on multiple-choice questions. You may also review each item along with the correct response and an explanation of why the response is correct.
Practice tests with written assignment(s) include sample responses to the assignment. You can compare your response to the sample responses to gauge your performance.